Kitchen & Bath Planning
When deciding to remodel any kitchen or bath, it takes a little bit of time and planning.
The first step is to meet with a Fitch Design Consultant at your home. There will be a number of important items to discuss and key questions to answer before moving forward. The best part is there is no commitment required.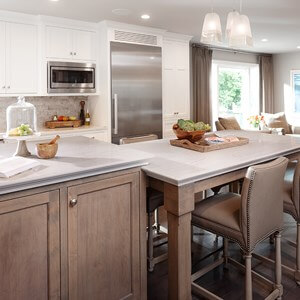 Are you looking to add floor space or natural light?
The Fitch Design Studio difference is we help you to look beyond the standard remodel. We design a kitchen or bath you will love today and that will meet your family's needs over the years to come. This may include increasing the floor space or adding a natural light source. Fitch specializes in both Four Seasons Sunrooms and solid room additions giving your remodel that bonus feature you've envisioned.
Our two sunroom options are a Sun & Stars room which is highlighted by an entire ceiling of glass, while a Sun & Shade room has a solid ceiling providing plenty of opportunities to add natural light through a VELUX skylight or sun tunnel.
What's your style?
Selecting the style you desire is key in a kitchen or bath design. There are many styles to choose from when designing a kitchen or bath including modern, rustic, contemporary, farmhouse and many others. As the room is measured the cabinets, appliances, lighting and plumbing fixtures are selected as well. By working with top rated partners like New River Cabinetry, Cambria Countertops, and Dacor Kitchen appliances, the Fitch Design Studio provides high-quality options for your family.
Let's measure, then create the layout!
Now comes the fun part! We begin with taking measurements then upload them to our computer aided design (CAD) program 20/20 to create a layout for the design to unfold. This program will bring the project to life. Not only will you see the blueprint of the room, but a Fitch Design Consultant can apply your choice of cabinets, appliances and plumbing fixtures from their database so you can see a rendering of your room.
Furthermore, if you are thinking of adding a sunroom or room addition to your kitchen or bath project, you should review our Sunroom/Room Addition Planning section to learn more.
As you see your new kitchen or bath come to life we explain the details, provide options, discuss the construction process, as well as the timing and budget. Our goal is to build excitement and provide immediate peace of mind for you.
100% of the construction process is managed by Fitch.
Often homeowners worry about their home remodeling project. At Fitch Design Studio, we are responsible for the entire process from the design through the final day of construction. With our team of more than twenty talented staff, there is an expectation to supply quality materials and craftsmanship, which we have provided in the community for the last 30 years.
Is the work covered by a warranty?
In New York State, home improvement law requires contractors to provide a one (1) year labor warranty on all work. At Fitch Design Studio, we believe in the quality of our work. We provide a five (5) year limited work warranty on all completed projects.
What are some ways we can pay for this project?
At Fitch Design Studio, we will work with you to identify the best ways to fund your project. Please visit our financing section for more information.
Are you ready to take the next step?
We would like the opportunity to sit down, discuss and turn your dream of a kitchen or bath into a reality. Call us at (585) 377-3330 or submit your information request form to set up an appointment.
"As our family grew, our kitchen no longer met our needs. With the boys playing sports year round and our daughter focusing on the arts, our relatives were over more than just on the holidays. We sat down with a Fitch Design Consultant who showed us several options on how to either reconfigure the current space or to add on a sunroom. Since our kitchen faced south, we decided to add a sunroom so we had more usable space. We now have room to cook, serve and sit in when we entertain our family." ~ Greece, NY
*All trademarks are the property of their respective owners: CWP, Cambria, and Dacor