Basement Finishing Partner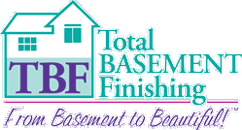 The experts at Total Basement Finishing (TBF) and Fitch Construction strive to uphold the values of quality, responsibility, and integrity. Our staff, products and dealer network are all founded on our belief in these ideas.
Our focus is on both the personal and professional growth of our people and our dealer's people. Our monthly training for installation and production, business and system procedure development, management training and all other functions of our company are hosted directly at our headquarters in Seymour, Connecticut. We personally make sure that all our basement finishing and remodeling contractors are the best in the world!
Total Basement Finishing is a division of Basement Systems, Inc., the world leader in dry basement technology. This is a perfect fit. Basements are cold and damp places, and many get wet. Not only is the TBF basement remodeling system designed with these factors in mind, but also with the priority of being environmentally friendly, and promoting energy efficiency.
Trust the basement experts at Fitch Construction to do the right thing in your basement, protect your investment, and design a beautiful new living space in your home!