With every new year comes new trends, ideas, and tips for bathroom remodeling.
Our team of expert design consultants here at Fitch Construction Inc. has put together a selection of remodeling ideas that you can use for your 2021 bathroom renovation.
If you've been living in your home for over a decade, then the chances are your bathroom has been used quite a bit. We spend a lot of time in the bathroom whether it's for a nice soak in the tub, a long shower, or just a simple morning routine.
Bathrooms are an integral part of your home and deserve to be looked after.
Remodeling your bathroom doesn't just improve the quality of your home to live in, it can also greatly increase your home's value.
So, let's take a look at this year's latest trends and remodeling ideas that you can take on board in 2021.
Use granite to bring a touch of luxury into the bathroom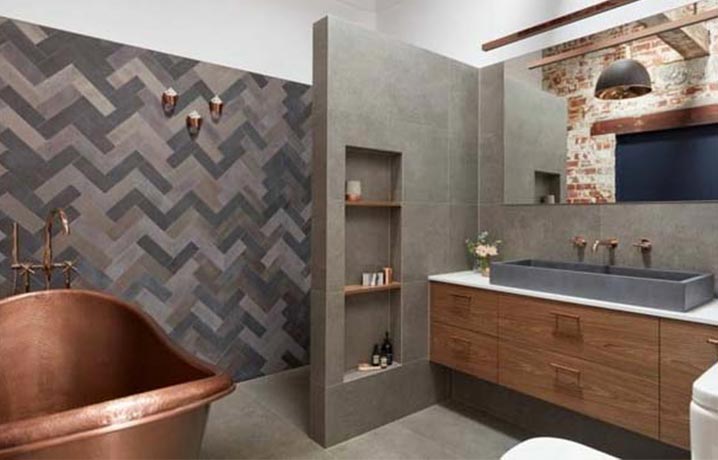 Granite is a brilliant material to use in bathrooms because of its high resilience and its high-end looks. It's easy to care for and stunning to look at, giving your bathroom that luxury feel. It's known as a cheaper or more affordable version of marble but just because it's cheaper doesn't mean it's not as good-looking.
Granite tiles are a great addition to any bathroom. They're non-slip making them a lot safer to use in a bathroom, especially if you've got small kids or elderly people in your home. There also aren't any joints with granite tiles so the tiles will seamlessly fit together giving your bathroom a sleek and stylish look.
Granite tiles aren't the only popular way to use granite in a modern bathroom though. You can also install granite vanities which help give your bathroom a luxurious and lavish look.
Combining granite with wood, copper, gold, concrete, or stainless steel is also a great look for any modern bathroom design. Use granite to give your bathroom a unique and glamorous look.
Remove tiles & let bathroom furniture take the main stage
A big trend that's hitting modern bathrooms is removing tiles and replacing them with natural materials. A lot of bathrooms now, and going into 2021, have no tiles in them, instead wood, concrete elements, and stylish bathroom furniture take to the main stage.
Modern choices for flooring and wall coverings are proving to be a strong contender in today's bathroom trends.
Tiles are out and natural materials are in. They have their benefits too. Natural materials are more resilient to water damage even with daily, continuous contact. They also look sleek and impressive in a bathroom of any size.
Bathrooms without tiles appear more open, and they're a lot easier to maintain. With the addition of bathroom greenery, furniture, and other aesthetic choices bathrooms are starting to become more of a living space rather than just a place where you go to wash.
Gray, black, and white are back on-trend for 2021 bathroom colors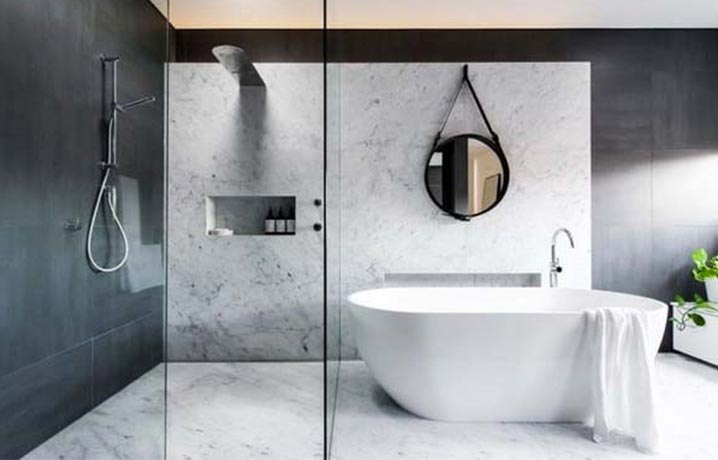 Color plays an important role in creating the right bathroom design for your home, and bathroom colors for 2021 are leaning towards a more monotone feel. Reds, blues, and greens are a thing of the past - what modern bathroom designers want are grays, black and white.
This simple color scheme gives your bathroom depth and it lets your high-quality granite surfaces and designer bathroom furniture stand out. For example, having a dark gray wall illuminates a white ceramic bathtub or sink.
If your floor is laid with high-gloss tiles and the walls are tiled with a dark matt finish there's a certain attractive contrast. Stainless steel fittings with minimalist design also effectively make your bathroom stand out.
What will bathroom design look like in 2021?
The modern bathroom of 2021 is going to focus on simplicity. Simple, elegant designs are perfect for a modern bathroom, and they can provide your home with a stylish look.
There are so many different materials, styles, and options to choose from when designing your bathroom and some are very economical to purchase. Remodeling your bathroom doesn't have to take up too much of your time, but it does have to look good.
If you're looking for a cool, modern look for your bathroom in the new year don't get too hung up on the details. Simple, spacious, and elegant bathrooms are trending right now so just relax and think of a simple, easy design that you know you'll love.
Do you need some help thinking of the perfect design for your modern bathroom? We can help you with that.
The Fitch Construction team takes great pride in creating unique spaces of any size, for any function, and strives to provide outstanding quality customer service.
If you're ready to invest in increasing the value of your home, get in touch today or call us on (585) 377-3330.