There are many benefits of having a sunroom added to your home. For one, you can enjoy more living space while embracing nature and an abundance of natural light.
Just picture it: a sun-drenched room with a sweet breeze coming in through the windows during spring, summer, or fall.
Even in the winter, your sunroom is filled with sunlight, but you're kept cozy and warm as you enjoy the Outdoors from Indoors.
During the hottest days of the year,with our patented Conservaglass, you can keep your sunroom at the perfect temperature. Cooler in Summer and Warmer in Winter.
The best thing about a sunroom addition is the opportunity for family fun and the perfect place to entertain guests!
You and your loved ones can embrace all the beauty of the outside world without the bugs, cold, or heat and wet weather.
If you're trying to find a custom-made sunroom for your home, you'll notice a lot of different styles on the market, each with its own name.
Popular terms for sunrooms include:
Solariums
Conservatives
Orangeries
3-Seasons Room
4-Seasons Rooms
Enclosed Patios
Florida Rooms
Catios (cat + patio)
Whatever style of sunroom you're interested in, you'll find the one that's right for you with Four Seasons Sunrooms.
As the official Western New York Dealer of Four Seasons Sunrooms, our design pros at Fitch Construction will assist you in designing the perfect new sunroom addition. Afterward, we'll have it expertly installed by our team.
To help us get the conversations started about your dream sunroom, we've compiled a list of popular sunroom ideas for 2023.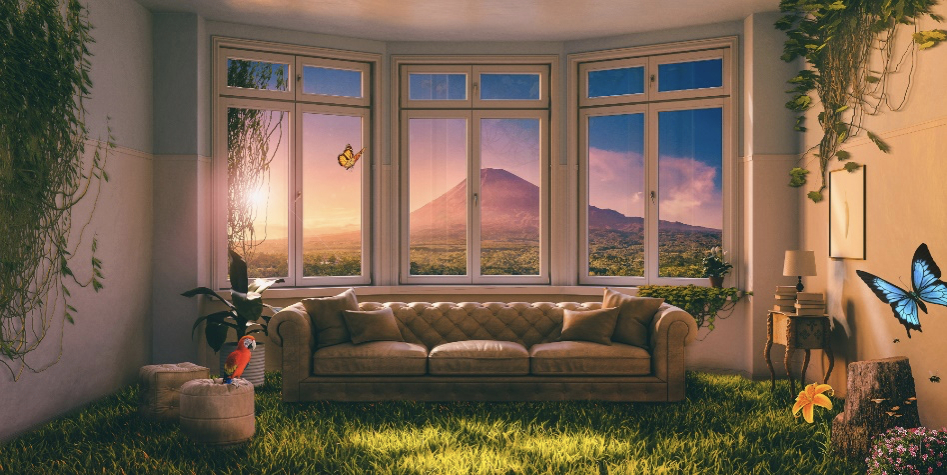 A Solid-Roof Shade Sunroom
Many of our customers have opted for the solid-roof sunroom for the intense Sunny side of your Home.
One of the most desirable qualities of this sunroom is the inclusion of skylights on the ceiling.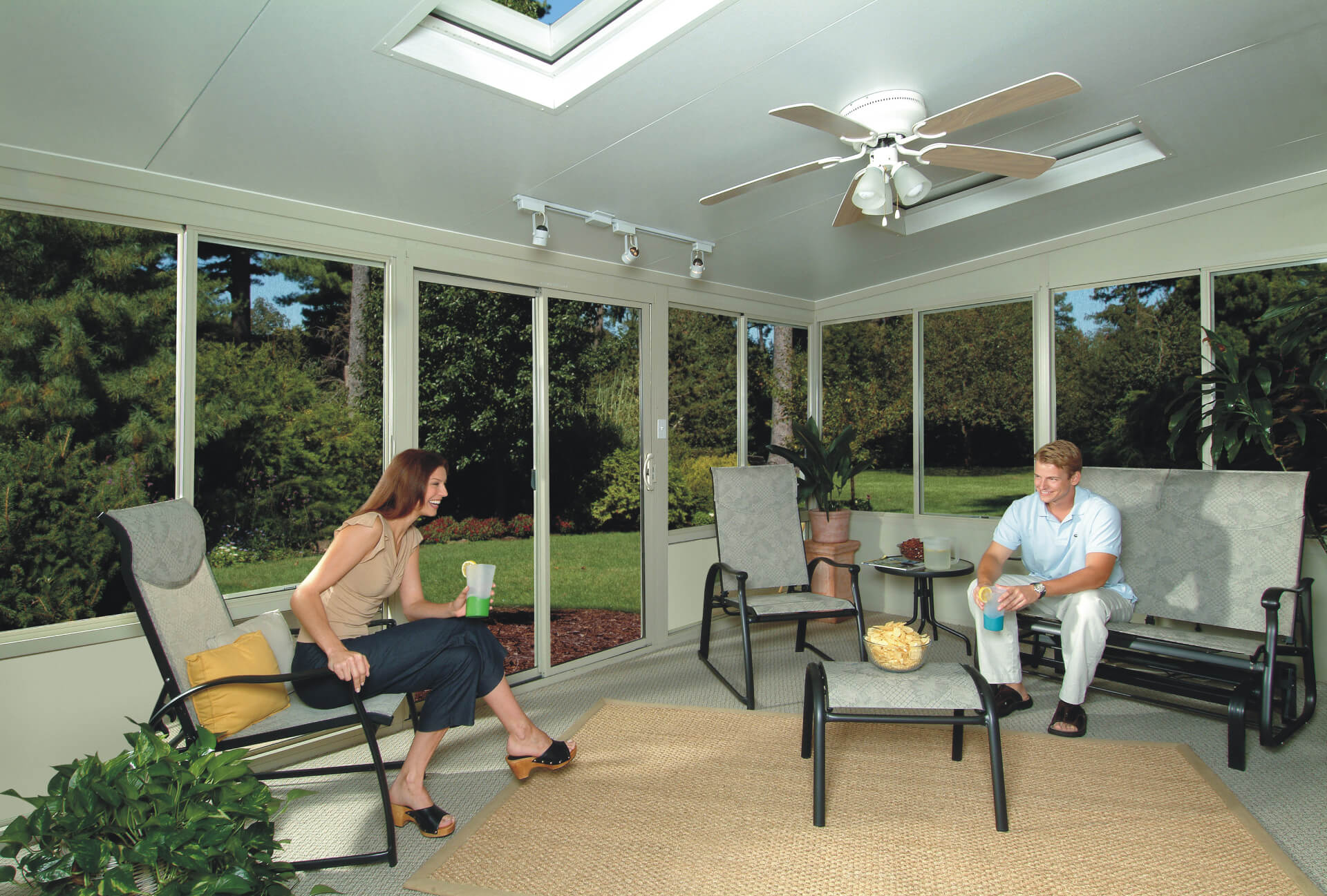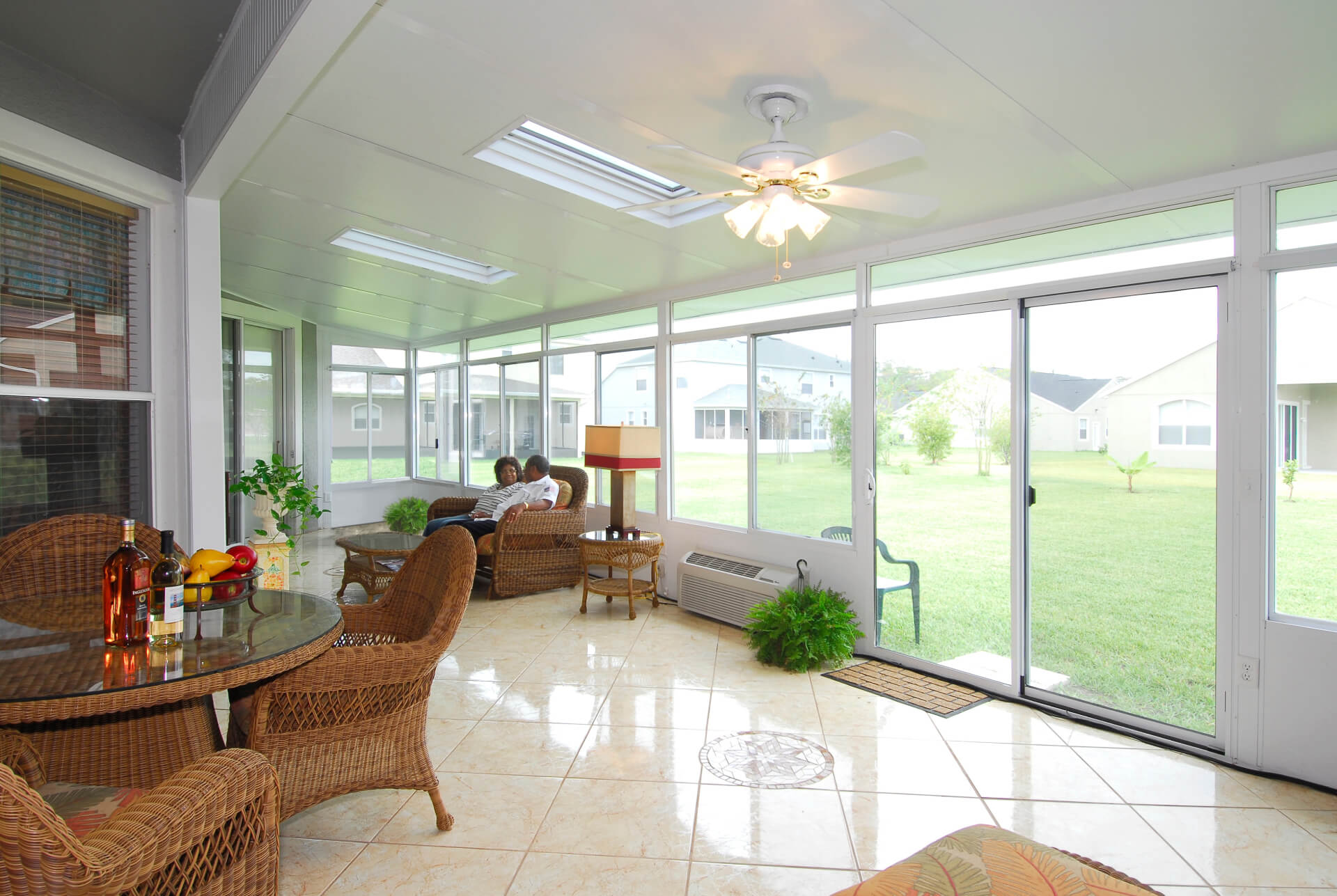 The skylights provide extra lighting from the sun for you and your guests to enjoy. They capture the moon's glow at night, adding a beautiful ambiance to the room.
When Fitch Construction installs a solid roof sunroom, additional options for your sunroom can be discussed.
Combine your Sunroom with a New Deck
Fitch Construction provides numerous options to meet your outdoor living needs.
As your local source for TimberTech, Azek, and Trex products, we have the best decking solutions. Our expertly constructed decks are designed to complement our sunrooms.
Our team of professionals has vast experience installing big and small sunrooms for many satisfied customers.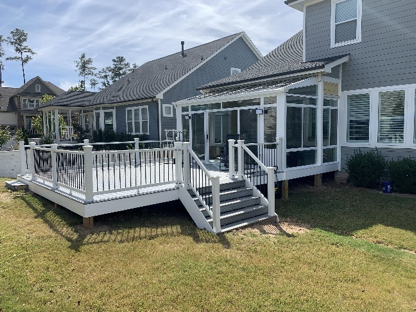 A current trend in outdoor living is to build a sunroom adjacent to your outdoor decking so that the deck surrounds a portion of your sunroom.
While in your sunroom, you can soak up the warm sunlight before moving outside to enjoy your deck. Why not add a firepit or cook dinner in your brand-new outdoor kitchen?
There's so much you can do with a new deck that will make entertaining a dream!
Get the party started on the deck before moving indoors as the air grows colder. Why should the fun have to stop?
Your Sunroom: Family Room, Dining Room, Home Theater...
A sunroom can make the perfect space for you and your family to spend quality time together.
When the kids need a place to study or watch TV, they can do so while getting direct sunlight in a room filled with vibrant energy.
After the kids go to bed, you and your spouse can snuggle up and watch the moon and stars brighten the night sky through the glass ceiling.
But the options don't stop there. Why not add a fireplace for extra warmth and ambiance? You can enjoy your own firelit sunroom.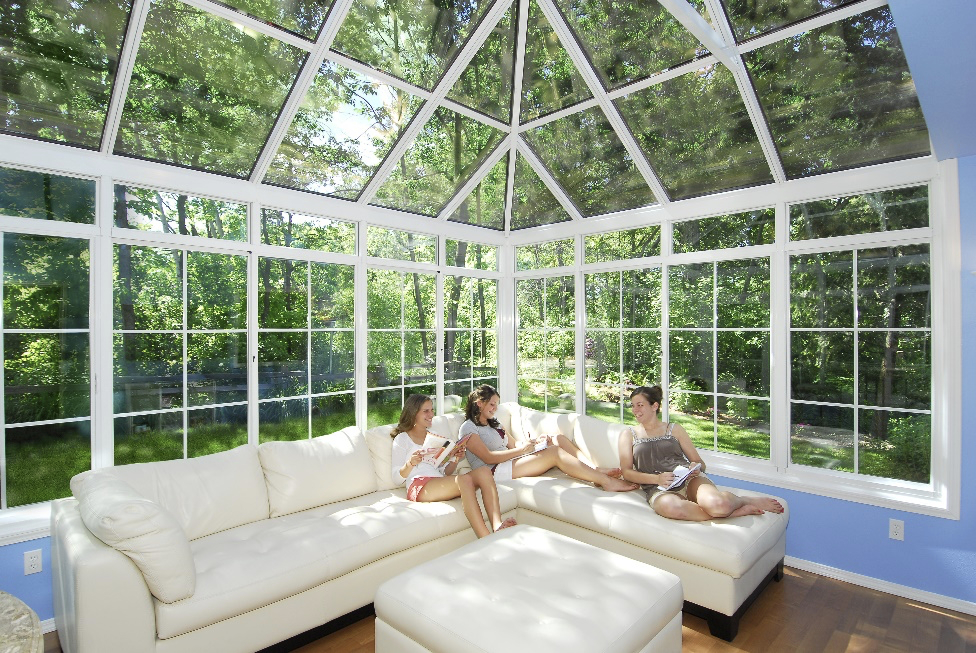 Place your treadmill or an elliptical next to the windows to create an energizing home gym.
Or move your dining room table into your sunroom and make your family's dinnertime a more blissful experience with the view of nature.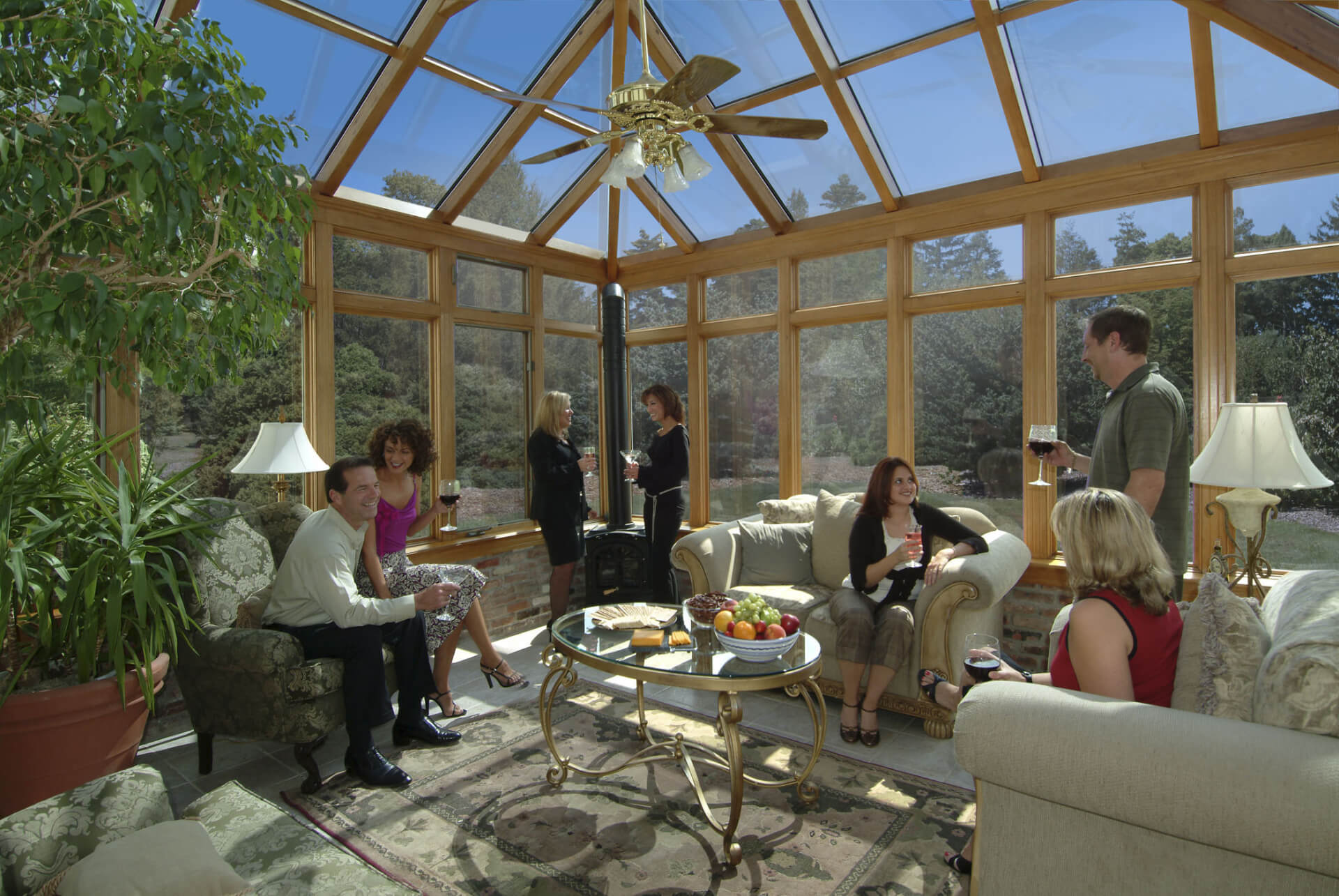 Many sunrooms are also now used as theater rooms, while some homeowners use their sunrooms as their home's pet-friendly room. Let your four-legged friend lounge in the sunshine while they're shrouded in love and attention.
Doing this is often called a catio which means cat + patio. Your imagination only limits the versatility of a sunroom.
With all the options currently available for a Four Seasons Sunroom, it's easy to build a space where you and your family will love to spend time.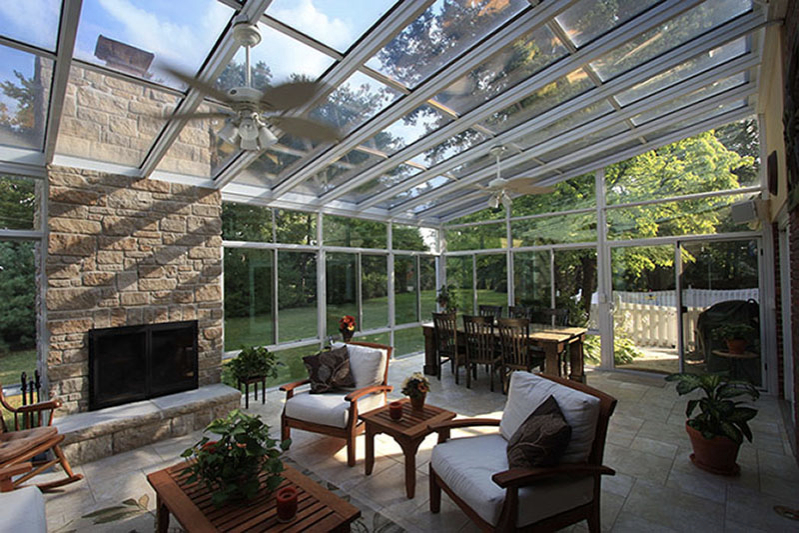 A Sunroom for your Pool
One of the reasons that some homeowners choose to have a sunroom installed is as a custom pool house or a way to enclose their pool.
A swimming pool is a refreshing outlet for a stressful life, and enclosing your pool makes it accessible 365 days a year.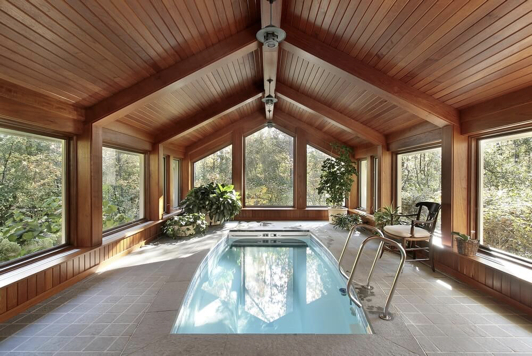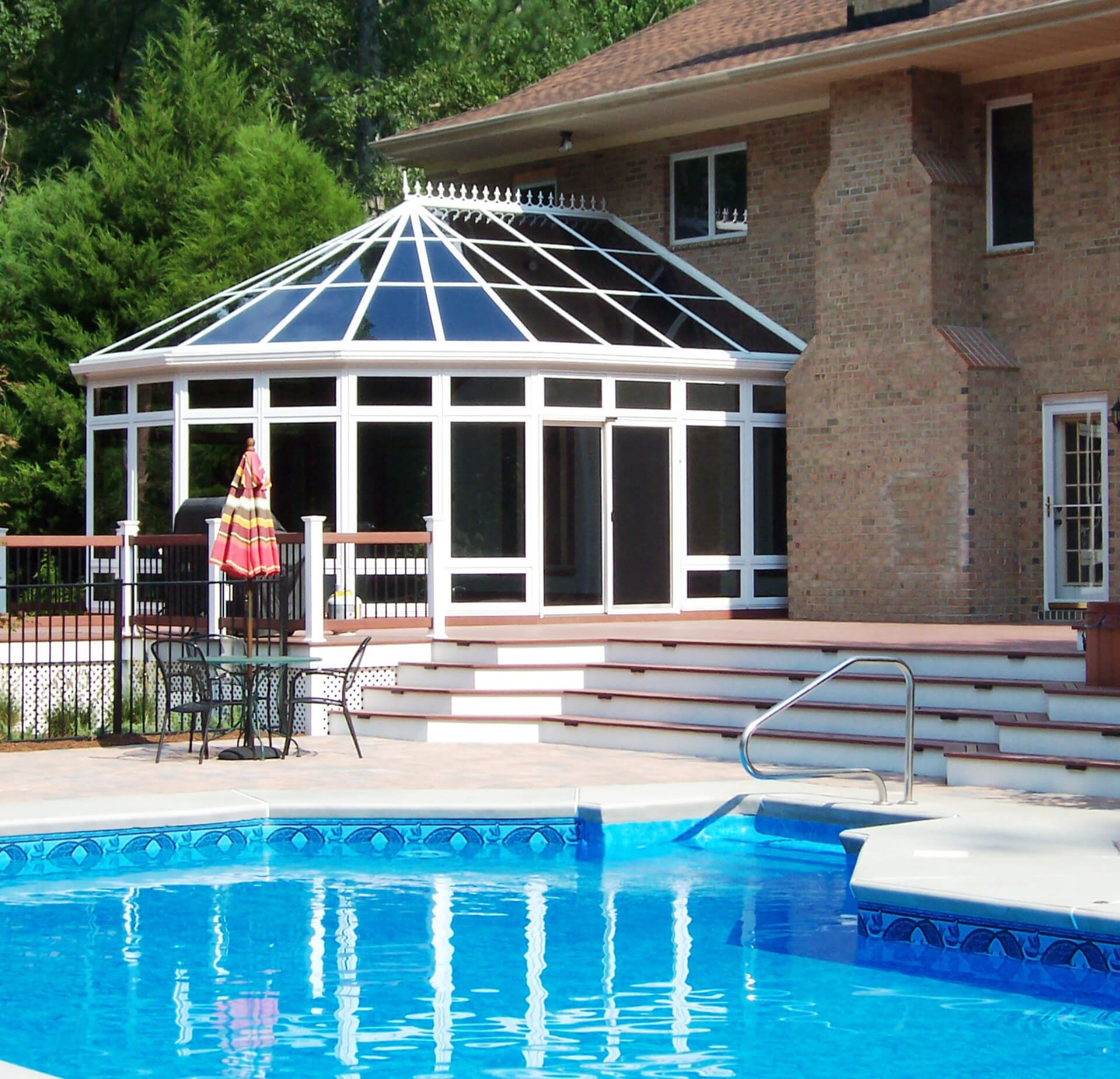 Don't let the Western New York wintertime chill stop you from swimming daily. Instead, enclose your pool in a sunroom installed by Fitch Construction.
If you're a seasoned swimmer and want your sunroom to act as a pool house during the warmer months - you can still enjoy a Four Seasons Sunroom installed by Fitch.
Four Seasons Sunrooms, surpassing expectations since 1975
Four Seasons continues surpassing expectations from their market-leading Four Seasons
Sunrooms to their contemporary LifeRoom series of screened-in patio covers.
Since 1975, sunroom experts have been manufacturing outdoor living solutions to meet the ever-expanding desires of the American homeowner.
From sunrooms that make entertaining a dream to sunrooms that integrate seamlessly with your decking - Four Seasons can provide it!
Fitch Construction, Inc. is the official Four Seasons Sunrooms® Dealer
Fitch Construction is the official Four Seasons Sunrooms dealer for Rochester, NY, and Buffalo.
We're here to help you enjoy your backyard without the heat, cold, bugs, or snow with an expertly installed sunroom. We deliver on our promise of "Fresh Ideas for the Good Life."
For 35 years, Fitch Construction and our teams of highly-trained craftspeople have built and remodeled sunrooms, outdoor living structures, and much more.
Contact Fitch Construction today and schedule your free In-Home Design Consultation with one of our design pros!