Five Bathroom Remodeling Tips You Need To Know
Remodeling your bathroom with Fitch Construction is an exciting adventure, especially if you've been stuck looking at the same outdated, cramped room for a few years. With a bathroom remodel, you'll be getting exactly what you want and need for your morning routine - with the perfect lighting, atmosphere, and decor to suit your style.
Your bathroom is your own personal oasis. It's where you get ready for a night out, where you freshen up after some beauty sleep, and it's where you can relax by yourself for a few minutes out of a hectic day.
To get the oasis you've always dreamed of, you'll need your bathroom remodel to go as smoothly as possible.
Today we're going to share with you five helpful tips to make your bathroom renovation stay on track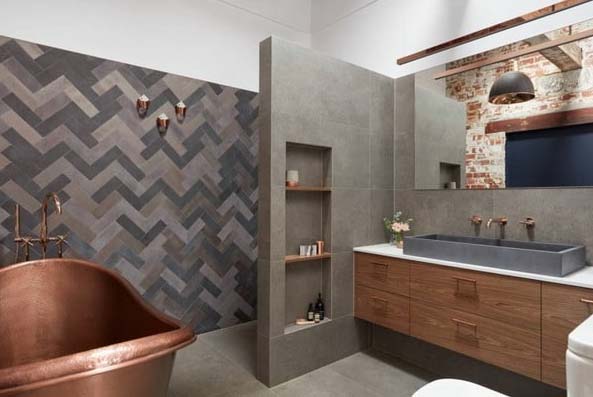 1. Build a budget
Transforming your home into the perfect paradise is an investment, and depending on what you're looking for, it can often cost a few thousand dollars.
This is why it's vital to have a budget set out before you start planning your dream bathroom.
Wouldn't it be awful to have your heart set on a specific idea only to realize your ideal bathroom was a bit out of your price range?
So, before you start selecting tiles or organizing fittings, sit down and work out how much you can allocate to your bathroom remodel project.
When sorting out your budget, you'll have to take into account the following:
Labor cost
Cost of materials
Cost of appliances
Lighting cost.
Top Tip: Don't forget to put a little bit of your budget aside for any unexpected issues like extra materials or last-minute changes you can't live without!
When sorting out your budget, don't forget to be realistic too. You'll need to factor in everything, and this includes:
Whether or not you're going to be looking to sell within a few years - you can get a 70% return rate on your bathroom remodel if you decide to sell!
If you're thinking about changing the location of plumbed-in items
The essential parts of your bathroom remodel that you absolutely can't live without
How much you're comfortably able to invest
Top Tip: If you are thinking of selling in the future and you're upgrading your bathroom to improve the value of your home, consider using materials that have a broad appeal.
2. Choose the right type of bathroom
A bathroom is not just a bathroom. They come in a range of shapes, sizes, and layouts.
Usually, people don't change the type of bathroom they have when they go for a remodel. But it is a good idea to look at your options before you start your renovation - just in case you see something you like.
The standard bathroom
The standard bathroom is generally a bathroom that contains a:
These can include shared bathrooms that were made to be shared with the entire family or en-suites that have the same features but are usually used found in the master bedroom.
If you're remodeling your en-suite, chances are you're looking to change it into a luxurious spa-like oasis that you can escape to whenever you're stressed or in need of some personal pampering.
The half bath
The half bath, more commonly known as the powder room, is a small space in your home with a sink and a toilet. That's it.
Adding a half bath to your home can help improve the flow of your home, especially when you've got guests over. Instead of invading your personal paradise, they can visit the powder room to freshen up, use the toilet and go about their nightly or morning routines. This will also put less pressure on your main bathroom.
Half baths can also be added in the smallest spaces, including closets and unused corners. Half baths are a great way to add a bit of value to your home.
The wet bathroom
A wet bathroom is a type of bathroom where the shower isn't in a separate cubicle or behind a curtain. Instead, the floor, cabinets, and even the walls are waterproof.
Creating a wet bathroom or wet room is an excellent spin on bathroom design. They're sleek, modern, and spacious, thanks to the lack of bulky shower doors.
Wet rooms are also great for accessibility. People with special needs or disabilities can easily shower and get clean without the need for climbing into baths or handling slippy shower doors.
They're a bit more expensive, but they're an excellent addition to your home and the most durable way to build a bathroom!
3. Decide on your layout
Now that you've decided on the type of bathroom you want installing or redoing, it's time to discuss how you'd like your bathroom laid out.
Depending on the shape and size of what you have to work with, there are countless options for the layout of your bathroom.
Remember, rearranging the plumbing fixtures or the walls can quickly drain your budget and leave you with very little to work with.
It can be challenging to look at your current bathroom and picture the perfect design in your head. But with some help from a professional designer, you can get the ideal bathroom remodel for your home.
Your Fitch designer can help you in a detailed, one-on-one design consultation where they'll create a 3-D render of your new bathroom. We can provide you with full mock-ups of what your bathroom could look like so you can explore your options before settling on a design.
If you're worried about what you can do with your small space, don't be. Our experienced designers can help you make the best of your small space and customize the layout to fit your unique needs.
4. Decide on a tub
Traditionally, a bathroom usually has a bathtub. That's why they're called bathrooms, but if you're not much of a bath kind of person, then you can nix the bath to free up more space.
Many Americans prefer showers over a bath, but if you're the kind of person who wants to relish in utter relaxation, then keeping or installing a tub with your remodel might be a huge bonus.
Having a luxury tub is the best thing to add to your en-suite because not only can you soak in peace far away from everything else going on in your home, but you can also increase the value and appeal of your home.
5. Don't forget to add the perfect lighting
People often overlook lighting, but it's an essential part of any home redesign, especially in the bathroom.
Bad bathroom lighting is instantly recognizable, which is why it's vital to think carefully about the types of lighting you're going to have in your space.
How to utilize natural lighting
Nothing makes a bathroom feel more welcoming than natural lighting.
If you can incorporate plenty of windows or even a skylight into your bathroom design, you'll easily create a brighter and airier bathroom.
Don't worry if you don't have room for a traditional skylight. You could instead install a tubular skylight which takes up a lot less space.
How to choose the best artificial lighting for bathrooms
No matter how good your natural lighting is, the sun does set every day, so you'll need to have some fantastic artificial lighting planned in your bathroom as well.
Recessed LEDs on a dimmer switch are a good call for bathrooms as they provide ambient light. An overhead light can cast shadows on the face, which isn't the most pleasant thing to have when getting ready to go out for an event. So, be sure to layer in some soft lighting at a head level over a vanity or mirror.
Are you looking for the perfect team of contractors to help you design and remodel your bathroom, ensuite, or toilet?
Then our team of renovation experts can help!
Whether you're looking to create a more modern bathroom, add in an extra bathroom, or convert your bathroom into a sleek and stylish wetroom our team can help.
Get in touch with Fitch Construction Inc. for a free in-home consultation to talk about your bathroom renovation project today!