Whether it's for your own comfort or for future selling opportunities, improving your home's value is always a great idea.
Every home has the potential to be improved, whether that's with a brand new bathroom, a new attic, basement finishing, or even a gorgeous new decking for all those summer barbecues.
But what should you choose to upgrade first?
How should you improve your home so it's not only more comfortable to live in, but also has more value for future potential buyers?
Today we're going to go through five ways you can boost your home's value with these home improvement projects.
1. Give Your Bathroom A Makeover
Bathroom remodels are a great investment opportunity. Not only will they make you feel happier about your home, but they'll also recoup 60.1% of your investment, according to the Cost vs. Value Report for 2021.
There's no need to go crazy: you can do a lot to improve your bathroom's value with some simple, easy-to-do upgrades.
You could install some new fixtures, brighten the room with a fresh coat of paint, regrout the bathtub, or even add a new mirror to make the room look bigger.
These simple additions can really help transform the look of a bathroom.
How much does a bathroom renovation cost in New York?
Depending on the size (and current state) of your bathroom, it'll cost you around $10,500 for a basic renovation.
This can include:
Replacing the tub
New wall & floor tiles
Replacing the toilet & sink
Adding a new vanity
Fixing new features
Bathroom renovation tips
Want to keep the costs down so you can work on other areas of your home too?
Here are a few renovation projects you can do yourself in your bathroom.
Re-caulk the tub - it's as easy as piping frosting on a birthday cake
Re-glaze your tub to give it a fresh new finish without having to replace it
Remove any dated wall coverings
Apply a new coat of paint yourself
Use a spray-on texture to help fix damaged walls quickly
Replace old shower doors or remove them to make your bathroom look bigger
2. Remodel The Attic Or Basement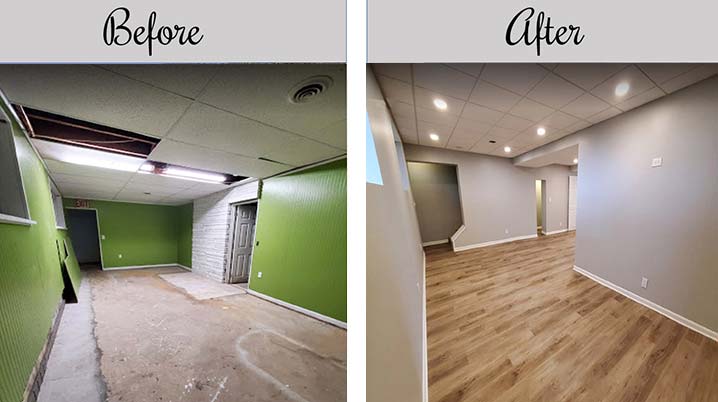 Building an extension to your home can often end up costing a lot more than you may have initially budgeted for. Instead of breaking the bank trying to extend your house, think about renovating an existing space in your home.
For example, you could change your dusty, unloved attic into a new bedroom, a home gym, or even a playroom for your kids. Alternatively, you could convert your basement into a family room, a gaming room, or just a space that can be personalized easily by future potential buyers.
3. Get Decked Out
Did you know that adding decking to your home could give you a recoup of 65.8%?
Not only will you get a great new living space for your home, but you'll also get a high return on investment. This really makes adding a deck a worthwhile job.
How much does an outside deck cost in New York?
Well, a composite deck costs around $19,227, and we know now that you'll get about 65% of this back when you resell your house.
A deck can be a great addition to any home. It gives you a place to spend time with your family outdoors, it's perfect for summer barbeques, and you could even add a hot tub if you wanted to!
4. Boost Curb Appeal
First impressions are everything, and by enhancing the look of your home's exterior, you'll be able to give potential buyers a first impression they won't forget (for all the right reasons!).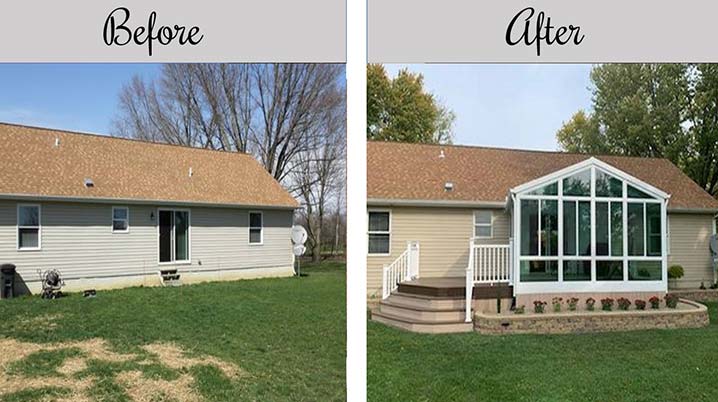 These improvements can be as simple as scrubbing your house from top to bottom or as complex as adding a brand new cobblestone walkway and landscaping the yard.
It's important to remember that enhancing your curb appeal doesn't have to be expensive. It just has to be effective.
Here are a few ideas for how you can boost your curb appeal:
Install a new front door (or paint your old one) - it's a fast, inexpensive way to increase your home's exterior instantly

Fix up any shrubbery - prune your shrubs and give any bushes and trees a makeover to make them look neat and tidy.

Add some color - plant new flower beds or add flower baskets to bring some brightness to your home.

Scrub your house exterior - remove any dirt from your home's siding and retouch any worn areas.

Keep your lawn tidy - having a well-kept, healthy lawn is an attractive selling point for buyers.
5. Improve Energy Efficiency
Getting a home inspector to look at your home is a great way to start your energy efficiency journey. They'll be able to tell you if your home lacks solid insulation or if it has drafty doors and windows. These types of things all lead to higher energy consumption and can end up costing homeowners a lot of money.
By getting these things fixed and improving your energy efficiency can boost your home's value significantly.
Here are a few updates you can do to get your home started on the road to energy efficiency:
Add extra insulation to your attic

Seal off any cracks around doors and windows

Fix any gaps around light switches and electrical sockets

Replace single-pane windows (they're a significant turn off for potential buyers)

Install energy star-rated windows
Installing energy-efficient windows can help you, and your potential buyers, save money on heating and cooling costs. Plus, by upgrading your home, you'll also be able to qualify for a green energy tax credit.
If you'd like to start improving your home then our team at Fitch Construction Inc. would love to help you out.
The Fitch team takes great pride in creating unique spaces of any size for any function and strives to provide outstanding quality customer service.
We can provide you with stunning bathroom renovations, kitchen remodels, and beautiful basement finishing projects.
Call us at (585) 377-3330 or contact us and let's chat about your home plans.