Are your windows letting out all your home's warmth? Are you seeing a steady increase in your energy bills? It might be time to replace your windows!
Replacing your home's windows before the winter hits won't just save you money, it'll also give your home a refreshed new look.
Most homeowners put off upgrading their windows but eventually, your windows will become outdated, inefficient, and cost you more money than a replacement would.
A window replacement project is expensive and time-consuming. You'll need to do plenty of research before deciding on what windows to go with and sometimes it can be a real pain in the neck.
But trust us, it's all worth it.
If you're determined to get the most out of your window investment when it comes to performance, looks, and energy efficiency, then you're going to need a bit of help making a well-informed decision. A window replacement job also recoups just over 70% of the investment.
The last thing you want to do is settle for a set of windows that won't stand a chance against the cold weather.
Today our team of window installation experts is going to go through everything you need to know about replacing your home's windows.
How do you know when you should replace your home's windows?
The most obvious time a homeowner should replace their windows is when a window has been damaged. Whether this is due to an unfortunate accident, weather, or simply time, if your windows are in bad shape, it's time to replace them before it gets worse.
If you're wondering whether your windows are hurting your home's thermal efficiency, then you should start looking out for the signs your windows are failing you.
Here are two key indicators that it's time to get a new set of windows:
1. Drafty windows
Windows that have lost their structural integrity, have poor weather-stripping or have shoddily made frames can, and will, let cold air inside your home and let the hot air out.
This can cause a lot of pressure on your HVAC system, making it work harder and shortening its lifespan. If you decide to keep these old drafty windows, then you won't just have to replace them, but you'll also have to replace your HVAC.
Not only this, but when your HVAC system works twice as hard, your energy bill goes up twice as much.
So when you're considering your next set of windows, ask about the window's air infiltration rating. Make sure you get windows with a rating of 0.02 or less - it's the best!
2. Condensation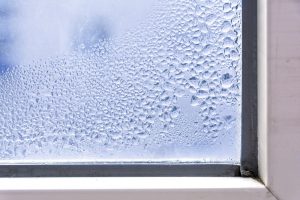 Whether you've got a build-up of condensation on the inside or the outside, it's a clear sign that your windows need replacing.
Condensation on your windows shows that your windows are poorly insulated or are leaking air. Condensation and sometimes ice form inside a window if the glass is colder than the air around it.
The issue is minimized when you have multi-pane glass windows or gas fills like many of today's state-of-the-art windows.
If you've got condensation appearing between the pieces of glass, then this is a clear sign of a catastrophic seal failure. If this happens, we'd recommend checking your warranty and replacing them as soon as possible.
Reasons to replace your windows
There are plenty of other reasons you should replace the windows on your home, but here are three reasons we think it's essential to replace your windows sooner rather than later.
1. They improve your home's overall look
Replacing old windows can improve weather protection and boost energy efficiency, but they can also give your home a face lift.
Windows are one of the most prominent features of a home's exterior. If they're faded, streaked, or noticeably old, then they'll seriously damage your curb appeal.
Getting replacement windows will upgrade your home's exterior. Plus they come in a variety of attractive styles, colors, and sizes and can be completely customized to fit your style.
2. They reduce maintenance
Another great benefit of having new windows installed is the rapid reduction in maintenance requirements.
Many of today's windows have easy-clean glass that only needs to be hosed off now and then to look like new.
Plus, modern frame materials like vinyl and composite are designed to resist chipping, cracking, and warping, meaning you'll be able to keep your windows looking fresh for years.
3.They make life easier
New windows make your life that little bit easier. They're easier to open if you want to bring some cool air into your home, and some styles feature sashes that fold inward to allow for easier cleaning.
They are better insulated to help get rid of any outside noises or disruptions too. So if you're tired of listening to sirens, barking dogs, or noisy neighbors, you can choose to get noise reduction windows with multi-pane glass.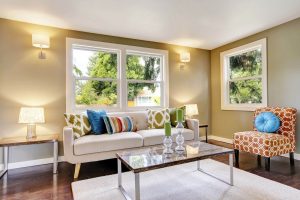 How do you replace your windows?
If you're looking to get your windows replaced and want help from a team of professionals then the team at Fitch Design Studios can help.
We've got endless styles and choices to select from including the gorgeous Sunrise and Andersen Windows.
We'll work with you to identify the best ways to fund your project and help you turn your vision into a reality.
Call us in Rochester at (585) 377-3330 or in Buffalo at (716) 919-3330.