The winners of the VELUX Daylight Renovation Sweepstakes competition are in - and we helped install the VELUX windows in the winner's home!
We're delighted to have been chosen as the installer of choice for the recent VELUX remodeling competition.
We installed two VELUX No Leak Solar Powered "Fresh Air" Skylights with solar blinds. The skylights give a whole new look to the homeowners' kitchen and really make it look much brighter and larger.
Their kitchen was rather dark looking before we installed the VELUX windows, but now their kitchen is bright, open, and even more beautiful.
Let's take a closer look at their home and the job we did with their skylights.
What's the winning house like?
Ken and Jen Dickerson own a beautiful farmhouse outside Rochester, NY that dates back to the 1880s.
The couple had a kitchen renovation on their wish list for quite a while, as the last time their home was renovated was in the late 1990s. After seeing the VELUX Daylight Renovation Sweepstakes competition on Instagram, the couple jumped at the chance to enter.
Their kitchen is a very spacious room and has a gorgeous high ceiling, but it was always dark and dim, making it difficult to work in.
The kitchen itself has a gorgeous, rustic feel to it and the farmhouse decor includes blonde wood flooring, wooden ceiling beams, and cast iron door hardware.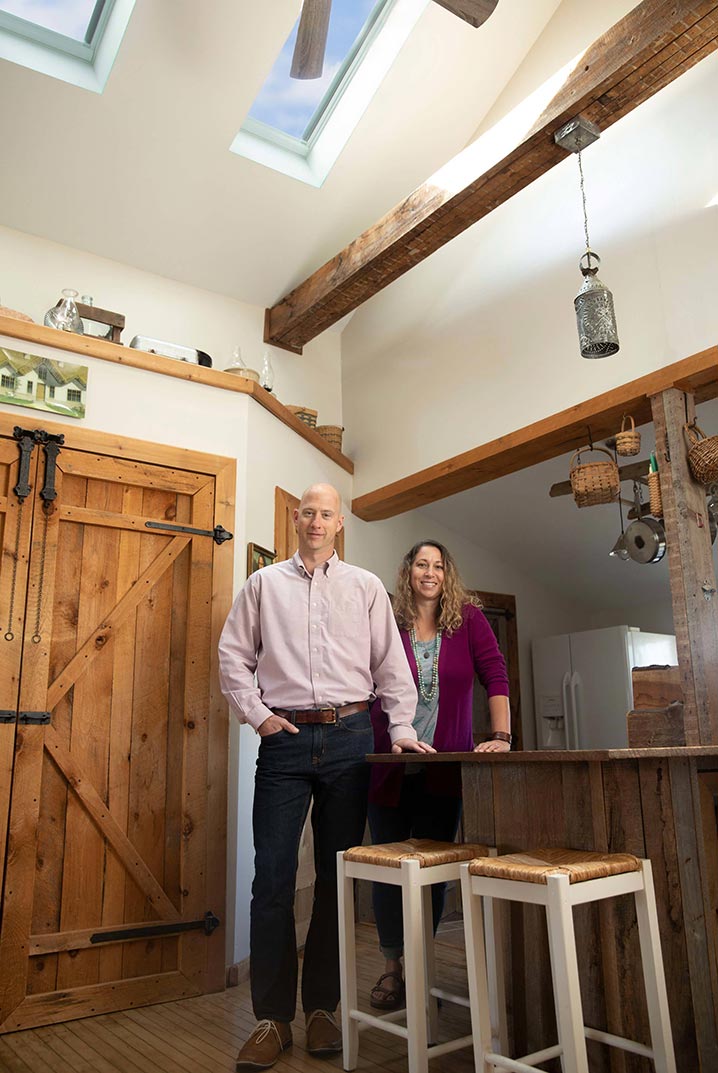 The previous owners expanded the kitchen to include the porch which resulted in the room having varying ceiling heights. This is unfortunate as it pushed the home's center away from any natural light, making a lot of the space in the heart of the home very dark.
Adding in the two skylights completely transformed the space for the family and made the space they spend most of their time in a lot more enjoyable to be in.
Now the family don't have to worry about relying on artificial lights during the day.
Installing the VELUX skylights
We're specialists when it comes to installing VELUX skylights and were thrilled when the couple hired us to install their windows for them.
It's always a great feeling when you bring light into a person's home, especially when it changes a home's atmosphere as much as it did for the Dickersons.
We installed their skylights over the course of one week in September. We're experts at installing VELUX windows, so we got in there, did our job, and gave the lovely couple the perfect set of skylights they needed to finish off their kitchen renovation.
Jen and Ken also asked us to install room darkening skylight blinds because there's a loft that overlooks the kitchen space. The family likes to watch TV together, so being able to close the blinds allowed them to get rid of any glare on the screen.
Overall the couple were delighted with the job we performed, and we were delighted to do the job for them.
Why choose VELUX windows?
Velux windows are perfect for adding the extra light you need into your home. If your home has dark spots, and you find that you're turning on electric lights a lot to fill out those dreary spaces, then you might want to consider installing some VELUX windows.
VELUX windows are a fantastic addition to any household. They're the perfect skylight - they don't leak, and they'll provide you with all the natural light you need to go about your daily routine.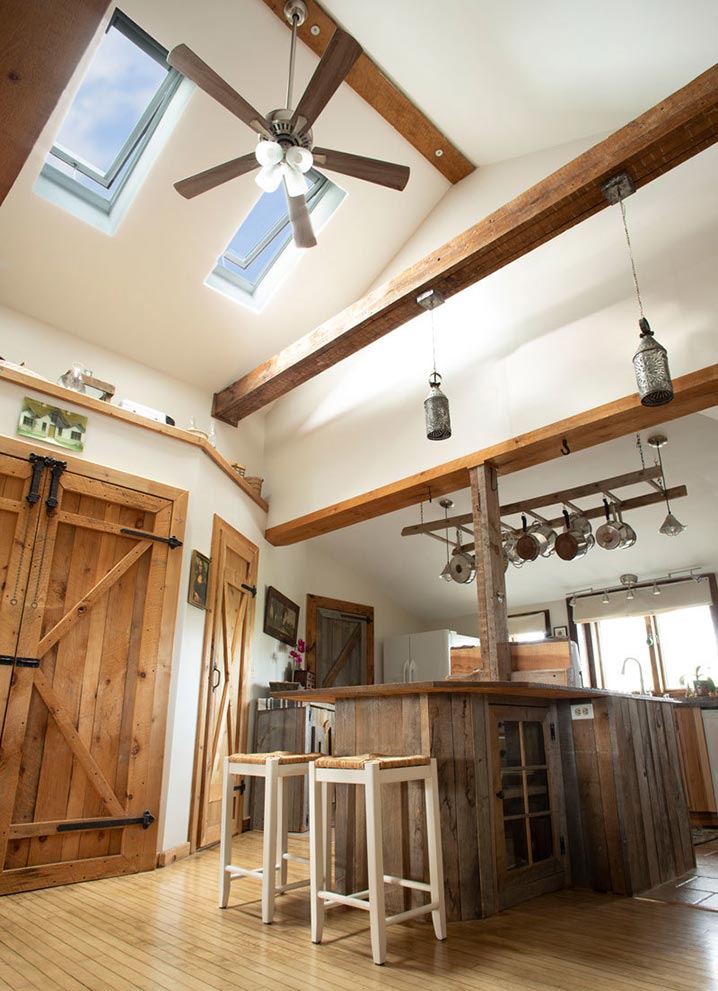 VELUX windows are also perfect for those hot summer days when you want to let in a bit more air into your home. They'll easily air out your house and keep it fresh and cool all day long.
The benefits of VELUX windows:
They let in a lot of natural light
They don't leak
They're perfect for airing out your home
There are eco-friendly solar-powered models that can save you money
They're easy to operate and keep clean
Automated blinds can cover them easily
They're quick and easy to install
Here at Fitch Construction, we're five-star VELUX window installers. If you're thinking about bringing in more natural light into your home then we'd love to help you out.
If you're like Jen and Ken then we'd be happy to make your space more comfortable to live in, get in contact with us today.