In this brave new world of the 2020s, we're all looking to expand our lives into new and exciting realms. For some people, this may involve personal growth and expanding their intellectual knowledge, or perhaps it includes physical activity and enhancing their overall health.
Yet, for others, it might be increasing their livable space by engaging in a well-thought-out home improvement project.
How are you seeking to expand your life in 2022?
Increasing the size of your living space with a beautiful new addition can be as simple as 1, 2, 3 – SUNROOM!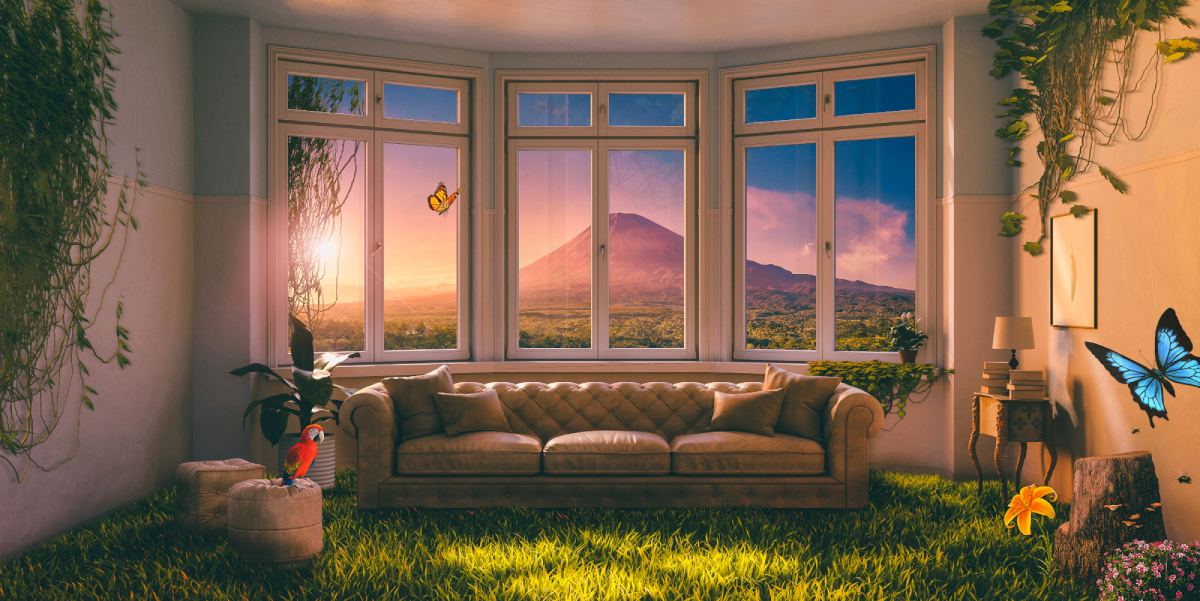 Four Seasons Outdoor Living Solutions
Four Seasons Outdoor Living Solutions provide numerous options for your Outdoor Living needs. Four Seasons continues to lead the market from their flagship Four Seasons Sunrooms to their innovative LifeRoom series of screened-in patio covers. Four Seasons has been manufacturing outdoor living solutions to meet the changing needs of American homeowners for over forty years.
Four Seasons manufactures best-in-class sunrooms that incorporate their proprietary Conservaglass windows, making cleaning the glass incredibly easy. Four Seasons Patio Rooms and their Crystal View Florida Rooms provide less expensive alternatives to a glass-roofed sunroom while expanding your livable space and providing gorgeous backyard views.
Four Seasons never stops innovating, from the flexible Addition-365 and stylish, light-filled Hampton Room to the free-standing and attached pergolas and the LifeRoom louvered roof system.
Keeping up with all the technological innovations in the industry is a difficult task for many contractors and construction companies. However, at Fitch Construction Inc., we believe continual factory-based training is the only way to achieve the desired result of a happy customer with a beautiful sunroom.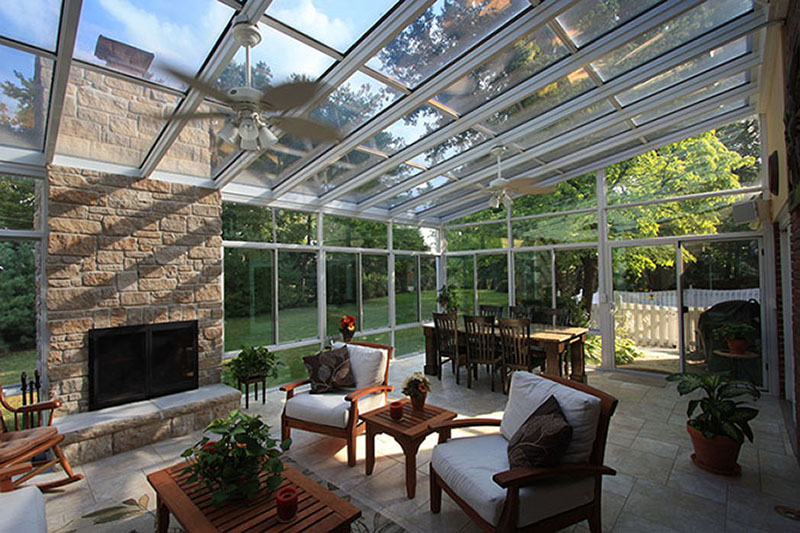 Take A Closer Look At Four Seasons Sunrooms
Nothing transforms a home quite like a sunroom! Livable space is added, sunlight and nature are brought inside, but more importantly, family fun always seems to follow. Your family's sunroom becomes a bright, friendly place for get-togethers, game nights, parties, or quiet chats.
Four Seasons Sunrooms are designed for year-round living, and sunroom designs can be customized to fit your unique lifestyle. Adding a Sunroom enhances the beauty and the value of your home. Traditional sunrooms add light and a spacious look that enhances the style of your home.
Four Seasons offer you the most extensive and complete product range in every architectural style. They also provide the largest choice in structural materials: sleek aluminum, efficient vinyl, and warm and inviting natural wood.
Build a Four Seasons sunroom today and create additional living space to celebrate the many good times to come.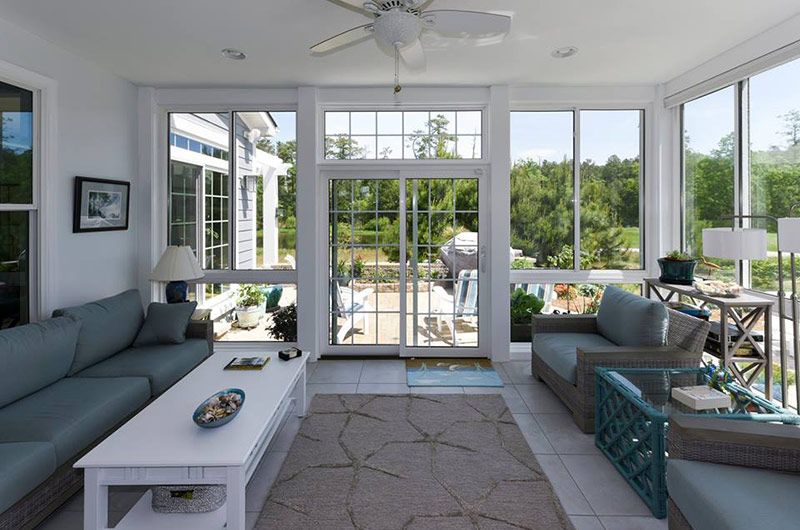 Three Seasons Florida Rooms
A Four Seasons Sunroom is created to function comfortably 12 months a year. Many homeowners only want the 3-Seasons option, as they don't plan to use their bonus room during the cold of winter. In this case, the Four Seasons Crystal View Florida Room is a perfect solution!
We know that quality and value are two of the most critical factors when you are looking to update your home. With the Crystal View, Florida Room, rest assured that these two objectives truly meet head-on. With Four Seasons' American-made durable walling system, you're choosing flexibility for your Florida Room outdoor living space. Enjoy all that nature offers while protecting yourself from the elements.
Four Seasons has been innovating for over 40 years, manufacturing the best American-made products to provide additional living space for their customers.
Build that bonus room with a Crystal View Florida Room from Four Seasons.
What are the benefits of a Crystal View Florida Room by Four Seasons?
Durable aluminum frame – Little maintenance, no mold or mildew, easily avoid pest infestation

Optional mull available – Versatile look and feel. Your project, your choice. Opt for a traditional sunroom or a new modern design.

Three and four-track horizontal stacking system - More options to improve your view. Fewer obstructions and customizable ventilation.

High-quality glazing materials - Provide protection from mother nature when you want it. Designed to handle the harshest conditions.

Automatic locking system - Simple ease of operation that also provides security. Close and lock. It's that simple. No additional mechanisms for locking.
Learn more about the crystal View Florida Rooms by Four Seasons here.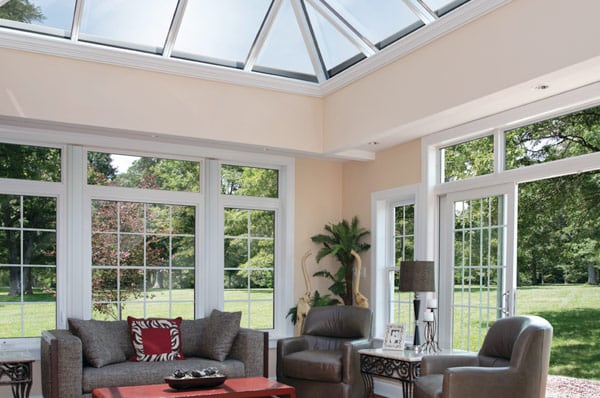 The Hampton Room
Are you looking to add more style to your life? Nothing adds style to your house like the Hampton Room by Four Seasons. With its stunning exterior, you'll be in awe of its superbly constructed elegance.
Four Seasons is renowned for transforming light and space in all homes. Now, they're about to change your lifestyle like never before. The Hampton Room will add significant value to your house, making it an excellent investment at a surprisingly affordable price.
Learn more about the beauty that is the Hampton Room by reading about it here.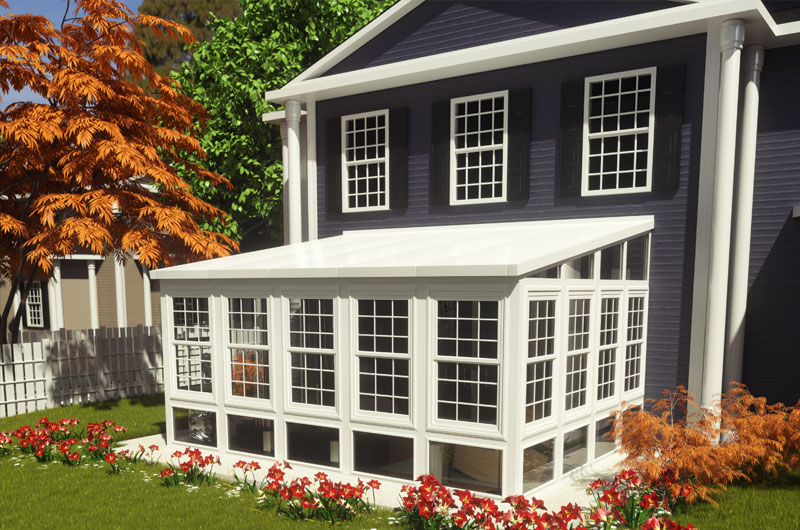 Four Seasons Addition-365
Over the years, many in the Home Improvement Industry have praised the virtues of aluminum, while others have stated that vinyl is the best choice for creating a year-round outdoor living solution. With the Addition-365, you get the best of both building materials.
Aluminum makes the Addition-365 room structurally superior, and this allows Four Seasons to manufacture another best-in-class with this building material. While on the outside, the Addition-365 uses vinyl cladding to ensure exceptional thermal performance. Furthermore, you can match the Addition-365 to your home with your choice of vinyl window styles.
Fitch Construction provides factory-trained installers and skilled craftsmen certified by the manufacturer. Fitch Construction installs and builds your new addition exactly how the manufacturer specifies, and they add a 5-year warranty on their labor (the norm is only a 1-year warranty on workmanship).
Take a closer look at the Four Seasons Addition-365 here.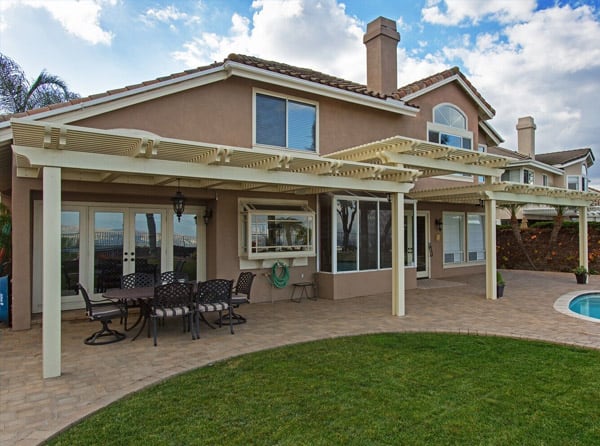 Free Standing & Attached Pergolas
Pergolas add a new architectural component to your garden, creating a unique gateway with an open cover for your patio or backyard deck. Homeowners can train beautiful flowering vines to grow onto the Pergola, producing an ever-changing focal point for your outdoor landscape.
Four Seasons Elitewood aluminum pergolas are made to last with heavy-duty, corrosion-resistant aluminum covered in a multi-stage coating process. This ensures that each Elitewood aluminum pergola provides low-maintenance enjoyment for years.
Every aspect has been carefully designed to enhance the wood's appearance and overall aesthetic appeal without any of the issues associated with wood.
A Four Seasons Elitewood pergola provides comfort with little maintenance, total weather resistance, and no cracking, warping, or splitting. There's no need for painting, and its fire-resistant, termite-resistant, and it has unsurpassed durability.
Find out more about the pergolas here.
Four Seasons LifeRooms
Enter a realm of comfort and relaxation you may have never felt before and feel all your senses come alive! LifeRoom isn't just a new room addition. It's a total mind-body experience. Unique. Innovative. Sophisticated. LifeRoom is so technologically advanced that it can make every other room feel somewhat primitive.
LifeRoom can transform a dull, ordinary backyard into a unique outdoor haven that reflects your personal style. Enjoy your backyard like never before without worrying about what Mother Nature may do.
LifeRoom's fully automated screens descend around you at the touch of a button. The attractive, remote-controlled retractable screens instantly provide protection from inclement weather, pesky flying insects, and nosy neighbors.
LifeRoom takes being cool to a new level with a built-in climate system that allows you to regulate the temperature. It makes enjoying hot days easy, thanks to the ultra-fine mist that sprays around you. It helps you reduce the temperature inside by up to 40 degrees!
LifeRoom's protective screens can also block an impressive 95% UV rays. With LifeRoom, you can enjoy a healthy, safe way to relax and play in nature.
The original LifeRoom is still Four Season's most popular LifeRoom. It can be equipped with independently motorized screens, and we frequently add skylights and recessed lighting.
Custom sizing available

Motorized screens

LED lighting

Variety of colors

Recessed lighting
The LifeRoom Luxe is Four Season's most luxurious LifeRoom, with motorized screens, Cool Mist & Soft Breeze technology, fully integrated LED lighting, and we frequently add skylights.
Custom sizing available

Motorized screens

Cool Mist technology

Soft Breeze technology

LED lighting
Learn more about the LifeRoom here!
Fitch Construction, Inc. is your official Four Seasons Sunrooms® dealer
And don't forget – Increasing the size of your living space with a beautiful new Addition can be as simple as 1, 2, 3 – SUNROOM! Fitch Construction is the official Four Seasons Sunrooms Dealer for both the Rochester, NY and Buffalo, NY regions. Contact Fitch Construction today and schedule your free In-Home Design Consultation with one of our Design Pros!
Enjoy your backyard without the heat, cold, bugs, or snow with a Sun Room from Fitch Construction. We deliver "Fresh Ideas for the Good Life!™"